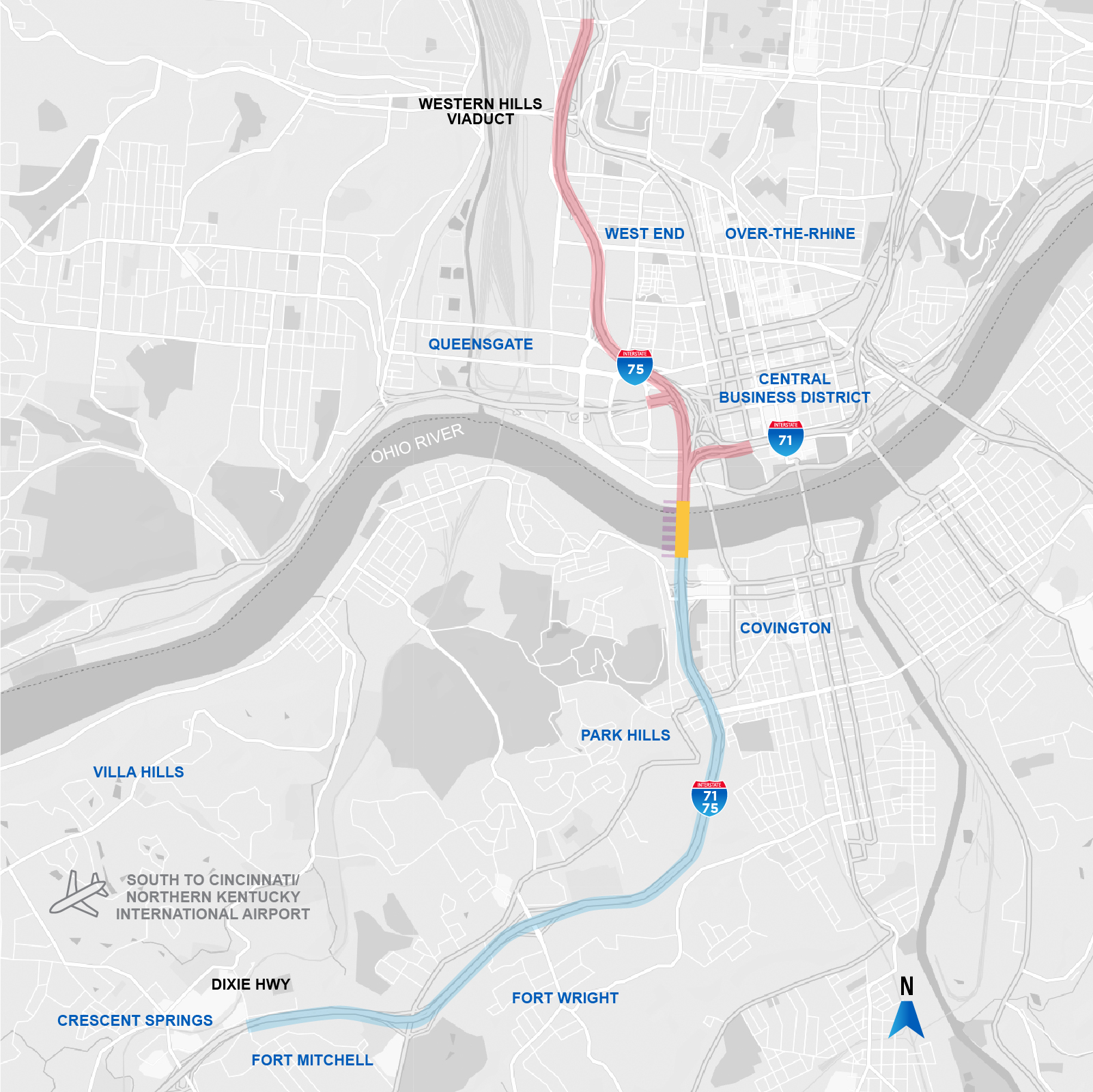 The Brent Spence Bridge is the centerpiece of a nationally-recognized corridor for freight and interstate travel that covers eight miles from the Western Hills Viaduct in Ohio to Dixie Highway in Kentucky. The bridge carries Interstates 71 and 75 across the Ohio River between Ohio and Kentucky.
Current planning and traffic analysis indicates that additional capacity is needed to support safer travel for drivers who use I-71/75 to cross the Ohio River. Long-term use of the Brent Spence Bridge, as well as a new companion structure, would allow for the separation of local and through traffic. This separation would improve safety and support better access to the Covington and Cincinnati business districts.
SEPARATING LOCAL AND THROUGH TRAFFIC WILL IMPROVE SAFETY AND SUPPORT ACCESS TO LOCAL BUSINESS DISTRICTS
Motorists who cross the bridge often do so with limited time to move to their intended lane. This weaving movement contributes to congestion and overall safety concerns on the bridge itself. For example, a northbound driver who enters I-71/75 northbound from the 4th St. on-ramp in Covington and wants to continue north to I-75 in Ohio has to cross multiple lanes of travel – on the bridge. A southbound driver from I-71 in Ohio who wants to exit at 5th St. in Covington confronts the same challenge. One of the primary goals of building a new companion structure to the west of the existing bridge is to separate local and through traffic, improving safety for those who drive through this area.
BRENT SPENCE BRIDGE FAST FACTS:
THE BRENT SPENCE BRIDGE IS SAFE AND STRUCTURALLY SOUND AND WILL SERVE A CRITICAL TRANSPORTATION NEED FOR DECADES TO COME.
The bridge was built in 1963 and is maintained by KYTC. Multiple routine maintenance projects have taken place throughout the history of the bridge to ensure it remains viable and safe for long-term use, including the recent project to clean and paint the bridge, as well as a project in 2017 to replace the concrete deck on both the north and southbound travel lanes.
The bridge was designed to carry 80-100,000 vehicles per day. It currently carries twice that volume. During peak travel times, the number of vehicles crossing the bridge significantly exceeds what each lane can efficiently handle without travel delays.
The bridge was reconfigured in 1985 to provide an additional travel lane on each deck.

Before: three 12-feet lanes + approximately five-feet shoulders
Now: four 11-feet lanes + one-foot shoulders