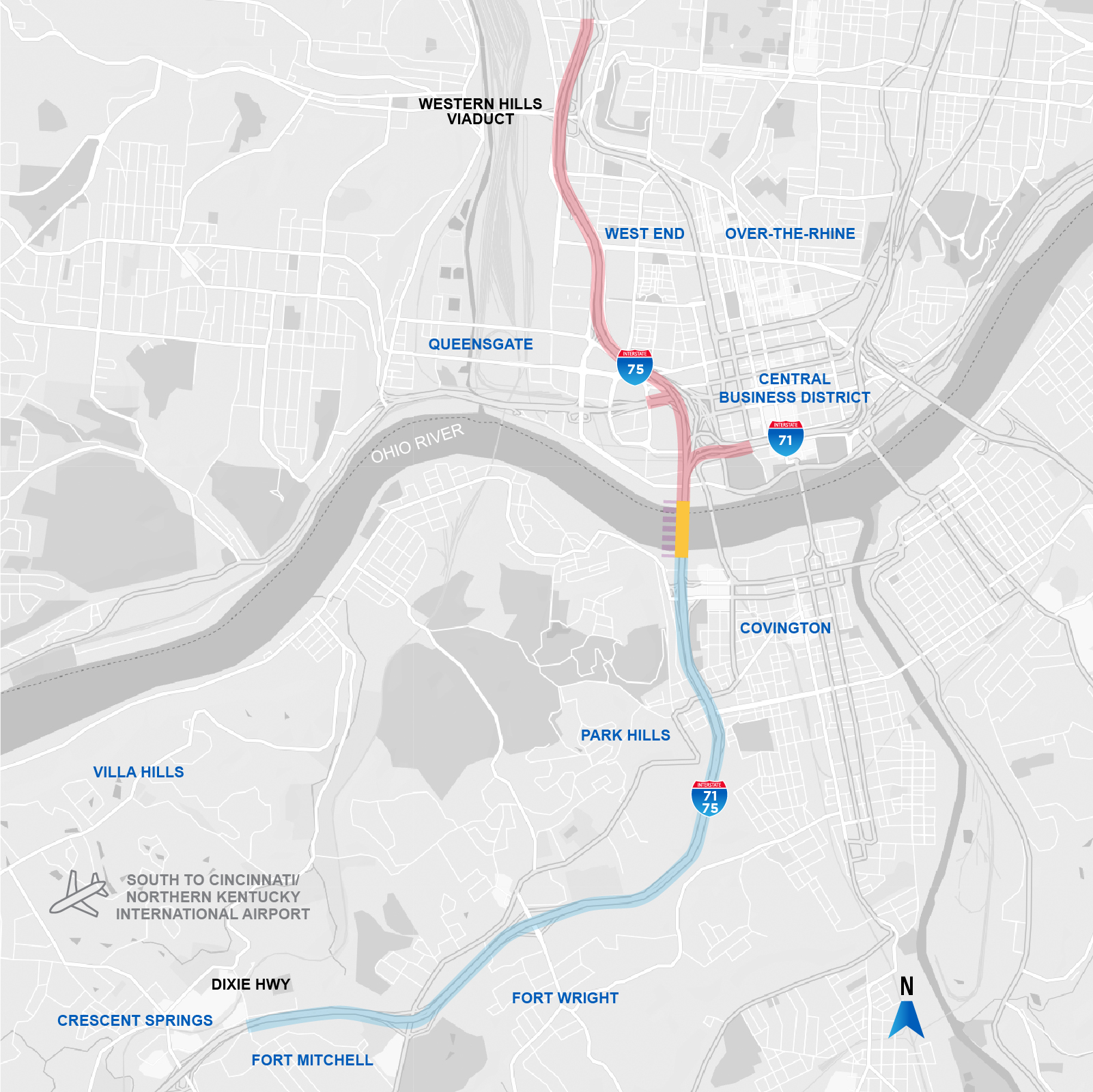 The Brent Spence Bridge Corridor (BSBC) project is designed to improve approximately 8 miles of Interstates 71 and 75 through Kentucky and Ohio, including the addition of a new companion bridge to the existing Brent Spence Bridge to reduce congestion, improve traffic flow and safety, and maintain key regional and national transportation corridors.
BRENT SPENCE BRIDGE
Named for Kentucky's longest serving congressman at the time, the Brent Spence Bridge is the gateway for motorists traveling across interstates I-71/75 between Ohio and Kentucky. A vital corridor for freight and local travelers alike, this bridge spans the Ohio River – connecting travelers to the central business districts in Covington and Cincinnati and beyond. In order to accommodate increasing demand, additional capacity will be required to support this busy thoroughfare.
By constructing a companion structure next to it, local and through traffic can be separated to promote safer driving conditions, while still providing access to both Covington and Cincinnati's bustling business districts.
IMPROVING SAFETY AND ADDRESSING COMMUNITY CONCERNS REMAIN THE PRIORITY
Originally built in 1963, the Brent Spence Bridge has since become a major commuter corridor for local travelers striving to get around town as well as interstate freight traffic and travelers passing through.
When the bridge opened, it carried only three lanes of traffic each way across the Ohio River. Designed to accommodate 80,000 vehicles a day, the bridge now carries more than double that amount. During peak travel times, the number of vehicles crossing the bridge significantly exceeds what each lane can efficiently handle without travel delays.
Engineers have deemed it structurally sound, allowing the bridge to serve a critical transportation need for decades to come. What's needed is a solution to drastically reduce traffic congestion while supporting access and connectivity to communities on both sides of the interstate highway.
RECONFIGURATION OF THE BRENT SPENCE FOR LOCAL BUSINESS DISTRICT ACCESS
The existing Brent Spence Bridge will be rehabilitated and reconfigured to accommodate local traffic with the speed limit reduced to a safer 45 mph. The bridge was cleaned and painted as part of its regular maintenance schedule in 2021, which allowed the contractor to complete spot repairs as well. As part of this project, enhancements to the bridge will include:
Replacement of the bridge decks;
Completion of spot repairs of the steel structure, as needed; and
Restriping of the decks to restore the bridge's originally-designed three lanes of travel in each direction with emergency shoulders on each side.